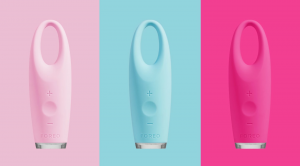 They say they are the windows to your soul but unfortunately, they are also the teller of your age or lifestyle too.
Most of us are aware that the skin around our eyes is thinner and more delicate than the rest of our face but do we know how best to look after it? And no, simply slathering on an expensive eye cream is not the answer.
Eye cream is a good place to start though! First establish what you consider your issue to be (puffiness, dark circles, lines etc) and choose your cream accordingly; for instance if darkness is a problem look for products containing brightening antioxidants or to combat puffiness look for caffeine on the ingredients list, such as the Dr Perricone PRE:EMP series Brightening Eye Cream, £39 – this silky cream is perfect for anyone from mid-20s upwards, to restore and maintain youthful skin. If it's wrinkles and sagging that need to be treated, the Dr Perricone Re:Firm Eye, £96 is the product for you! Quite a new product to the range, the Re:Firm eye is already making a name for itself for its spectacular firming and lifting results!
*btw yes, I am a Dr Perricone fan! He is a certified dermatologist dedicated to healthy ageing so I am very confident putting my sensitive eyes in his hands, so to speak. *
When you apply your eye cream, use no more than the size of a grain of rice, warm it between your two ring fingers and tap it gently into the skin on the occipital bone (the circle of bone that surrounds your eye) every morning and evening. Applying too much cream can actually puffiness worse as the tiny vessels can't deal with the product overload, so too can applying the cream too close to the eyes as there are even fewer vessels there (meaning circulation is reduced) and excess product can accumulate over time.
Consistency and care is the key to preserving youthful eyes! Try to treat the eyes a couple of times a week with a specific eye mask or treatment, I like the Murad Eye Lift Firming Treatment, £45. I always use it before a night out as it instantly brightens and 'fills' the skin to look lovely and smooth. Over time the vitamin E and amino acids help to restore elasticity. Another thing I like to use before a night out (and the morning after, and when I'm tired/ill/stressed/always!) is the Foreo Iris, £119. Foreo is famous for its T-Sonic, silicone cleansing brush and when I first saw the Iris- an eye massager shaped to fit the eye contour- I thought "what's the point? I can just use the massage side of my Foreo brush" but I was so wrong! The Iris is incredible, it's inspired by Indian finger tapping massage; the gentle pulsations drain away excess fluid and improve the absorption of your eye products. The Iris can also help with puffiness due to sinus problems (this is more common than you'd think- even blowing your nose too hard can cause puffy eyes if you cause the sinus' to become inflamed!). I can whole-heartedly say, there is a visible improvement to the skin around my eyes since I have been using the Iris.
For an instant 'eye-fix' head to Hari's on Brompton Rd for the Eye Architect Lash Lift, £85 with lash specialist, Nikki. It's a new generation lash lift (the new and improved version of eyelash perming) and tint to give you dark, curved, fluttery lashes, coupled with a soothing lymphatic drainage massage using the 'bioengineered-fresh-from-the-lab' Elethea Eye Architecture Cream, £75 and rose quartz crystals. The Elethea cream contains peptides and tamarind seed extract which is 40% more powerful than the much-loved hyaluronic acid! This is a fast-track treatment to wide awake eyes!
And speaking of lashes- luscious lashes hide a multitude of sins so make sure you look after them too! The Shavata Brow Strengthener, £18 (for brows and lashes) is a nourishing cold pressed castor oil rich in omega 9 fatty acids, minerals and nutrients that help to nourish and strengthen the hairs via a no-nonsense roller ball applicator. This won't make new hair grow but it will make existing hair healthier and it is so easy to use that you are likely to be consistent with it.
It's as simple as that! A few tiny steps for perfect peepers!
Dr Perricone PRE:EMP series Brightening Eye Cream, www.perriconemd.co.uk
Dr Perricone Re:Firm Eye, www.perriconemd.co.uk
Murad Eye Lift Firming Treatment, www.murad.co.uk
Foreo Iris, www.foreo.com
Elethea Eye Architecture Cream & Eye Architect Lash Lift, www.harissalon.com or to book call Hari's Brompton Road on 020 7581 5211
Shavata Brow Strengthener, www.shavata.co.uk